After lots of last-minute panicking over the Computer Graphics exam, being resigned to not remember half of the matrix transformations and the Phong equation, we were all taken by surprise by the exam – almost a cakewalk – and a lot of us were saying that too.
AI, on the other hand, couldn't have got much worse.
Everything that was a "guaranteed" question on the past papers didn't come up. Everything most people revised didn't come up. In fact, a fair description of the entire AI module is this: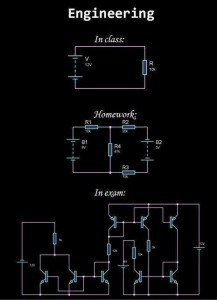 I could rant on about the coursework too, where we had to produce two expert systems on the same topic – one data driven and one goal driven. We were given two examples, one data driven and one "goal" driven, but the "goal" driven example that we all based our "goal" driven systems off was actually also data driven.
Goal driven was worth 2/3 of the marks.
Just as the AI exam finished, an announcement was made that due to the adverse weather, all exams after this one had been postponed by the university…… in some ways I'm glad it's out of the way though.
It was a bit windy when we left campus, being on the outskirts of the city it's pretty exposed – some roofing came off one of the buildings on campus right next to the main bus stop, so that meant the only bus stop that could work on campus was the one at the back of the CS building :D Only in Scotland it be called something like "Hurricane Bawbag"!
Oh well, there's only Foundations to go, with it's joys of lambda calculus.