Not a hugely exciting day, after the excitement of the interesting discoveries of yesterday.
I did find this stunning Earth-like world though:
and this beautiful star…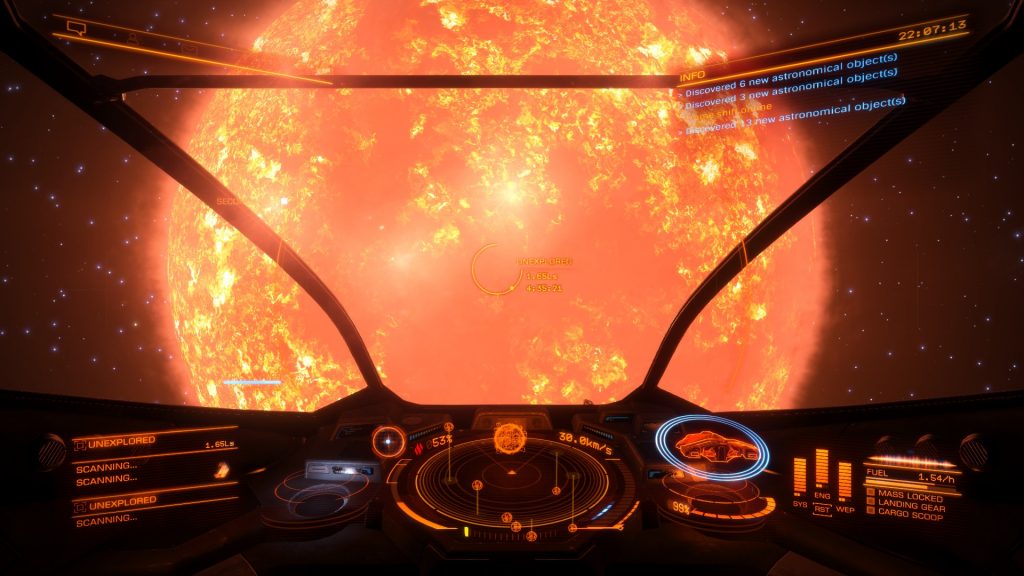 My ship appears to have been plagued with technical issues as well, ranging from multiple connection loss incidents between my cockpit and Curiosity's computer network, causing flight to be challenging. I'm going to have to take the ship in for a service with an engineer when I get back to the bubble I think.
I heard what I assume are Thargoids again this evening… I must be going insane…
Anyway, I've heard about the Six Rings system at Myriesly RY-S e3-5414, so I'm going to add that to my list of places to check out along the way. I've no idea where I'm going to need to fit it in amongst my planned waypoints though…
Statistics
| | |
| --- | --- |
| Current location | Kyloarph ZF-J c24-1418 |
| Next waypoint | Kyloaln VB-B d14-2208 (378.5 ly, 22bcj) |
| Distance from Myriesly RY-S e3-5414 | 6534.69 ly (367 bcj) |
| Distance from Sagittarius A* | 1244.57 ly (70 bcj) |
| Distance from Great Annihilator | 2921.48 ly (164 bcj) |
| Distance from Whambeia PO-Q e5-2321 | 4199.99 ly (236 bcj) |
| Distance from LHS 28 | 19284.07 ly (1081 bcj) |
| Incident count | 0 |
| Jumps made | 52 |
| Jumps remaining (best case) | 1918 |
| Space madness | 60 % |
Technical issues
| | |
| --- | --- |
| Connection loss to Frontier servers | 4 |
| Computer hardware lock-up while in-game | 1 |