I started off by meeting up with CMDR Braxton Doyle at Waypoint 17, which means he's caught up to me again. We were both glad to see another ship, so stopped for a photo opportunity.
Anyway, it was suggested that I backtrack two jumps to a high metal content planet, Blua Eaec IY-H d10-140 1, on which CMDR Braxton Doyle told me there was Vanadium to find. After spending a lot of time roaming around in a crater full of green/grey fog, doing quite a lot of damage to my SRV to the point I had to repair it 4-5 times thanks to either the high gravity or the really bumpy surface, or both, I decided it was time to get out of the crater and try the surface of the planet proper. Having not much better luck on the surface, I cut my losses after quite a while and continued onwards, not before crashing into the planetary ring system on my way out though.
An interesting discovery was that of a brown dwarf with some very impressive rings – it's definitely trying to be a planet!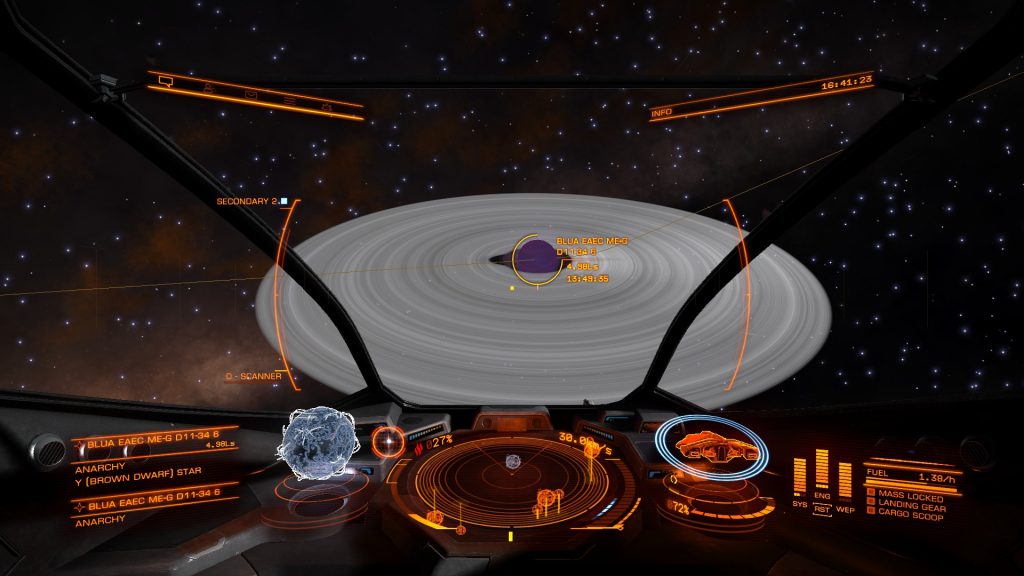 I moved onwards to another high-metal content planet, and did find two new elements (zirconium and ruthenium) here, as well as getting enough resources to fill my materials storage. Some iron and some sulfur had to be discarded unfortunately. It's worth noting that CMDR Braxton Doyle mentioned specifically materials being grouped together – is this not normal?
There's been a few crazy systems too with huge numbers of planets and subsystems – here's a few choice ones:
Other assorted pretties:
Statistics
| | |
| --- | --- |
| Current location | Boeph NH-V e2-1842 |
| Next waypoint | Eoch Flyuae DE-N b9-26 (999.86 ly, 62bcj) |
| Distance from Colonia | 4033.34 ly (250 bcj) |
| Incident count | 12 |
| Jumps made | 74 |
| Jumps remaining (best case) | 250 |
| Space madness | 68 % |
Incidents
| | |
| --- | --- |
| Unsafe drop from Supercruise (into star) | 1 |
| Overheat | 2 |
| Flipped SRV onto roof | 8 |
| Unsafe drop from Supercruise (into planetary rings) | 1 |